* It's been a bit of a mental shift to adjust from "not going to San Diego Comic Con" to "going to San Diego Comic Con" with less than two weeks to go before the event itself, but I'm managing, I think. The complete programming schedule for the show is up, along with the artists' alley listing (I am ready for this show to destroy my David Bowie sketchbook), the autograph listings, and the exhibit hall map.
* And while I wait for individual exhibitors to produce their own at-the-booth signing schedules and so on, other interesting tidbits begin to materialize, like a screening of The Midnight Meat Train nearby to the con on Friday the 25th.
* Evil on Two Legs' Jon continues his look at pop music in horror films, this time highlighting some very effective sequences in Zack Snyder's Dawn of the Dead and Frank Darabont's The Mist.
* Victoria Large of Not Coming to a Theater Near You on Hellboy II:
It's a visual feast (Could we expect less from director Guillermo del Toro?)
Why
,
yes
!
* If it seems like I'm disproportionately harping on Del Toro lately, it's just because I feel such a disconnect from my fellow genre enthusiasts regarding his work. It's like I'm going out of my way to be a one-man CW-buster. That being said, it sounds like the folks at Reverse Shot like his stuff even less than I do, backhanded compliment for Clive Barker notwithstanding.
* Could all those dinosaurs with nostrils on top of their heads in the dinosaur books you had as a kid actually have possessed trunks? That's the conclusion of Bill Munn, the designer of that awe-inspiring Gigantopithecus model from the American Museum of Natural History's "Mythic Creatures" exhibit, as Loren Coleman reports.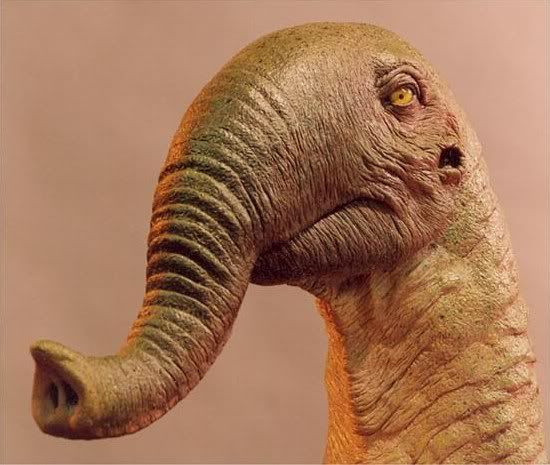 Check out the creature gallery at Munn's website, too.
* The great cartoonist Anders Nilsen has posted some breathtaking horror-inflected covers and interiors at his website.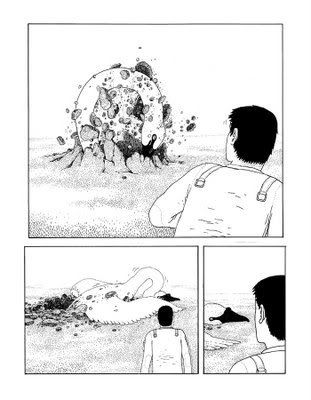 One of the most frustrating aspects of being a horror fan who reads comics is that most Western cartoonists' attempts at the genre rely on a surface "scariness" that delivers little in the way of actual fear. It's a bit like if every horror movie was still shot on the same cobweb-shrouded Universal sets. That's why it's so compelling to see artists like Nilsen, Tom Neely, Jordan Crane, Al Columbia and others take things in a much more unorthodox and visually sophisticated direction.