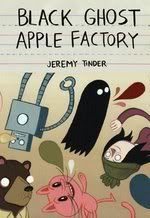 Black Ghost Apple Factory
Jeremy Tinder, writer/artist
Top Shelf, 2006
48 pages
$5
Buy it from Top Shelf
Jeremy Tinder's debut graphic novella Cry Yourself to Sleep displayed a knack for slightly off-kilter observational humor, a fine grasp on cute character designs, and an entertaining way of combining the two. Stripped of that longer effort's stabs at coaxing something deeper out of the yuks, BGAF feels slighter (is slighter, I suppose), but compensates for that by reading like a funny Jeffery Brown convention mini. Several of the short strips contained here mine familiar "cute animal is actually a vulgar cad" territory to laugh-out-loud effect--I particularly liked the shot of a nude woman fellating a bunny rabbit with such enthusiasm she looks like she's eating his crotch. The stand-out strip, though, is the most serious one, which centers on a love quadrangle involving a lovelorn elephant. In its eight pages of anthropomorphized friends/lovers sharing one last bittersweet night before a separation, you get something that reads like half-Chunky Rice parody, half-Chunky Rice tribute. That's a pretty enjoyable combination for this reader.