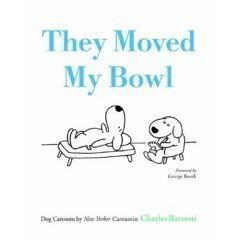 They Moved My Bowl: Dog Cartoons by New Yorker Cartoonist Charles Barsotti
Little, Brown and Company, May 2007
Charles Barsotti, writer/artist
120 pages, HC
$19.99
Buy it from Amazon, Barnes & Noble, or Wal-Mart
In trying to approach this book like a critic, I feel like that giant Arab swordsman who tries to approach Indiana Jones: No matter what kind of fancy-pants technique I might show off, I'm just gonna get shot. I love dogs, and as such I'm helpless before this collection of Barsotti's simply drawn gag cartoons revolving around our Canine-American brothers and sisters. A lot of the fun here is watching that New Yorker cartoon world of Freudian analysis on couches, mustachioed men in suits who call their briefcase-toting subordinates by their last names, and pairs of people tossing off neurotic bon mots to one another surgically implanted with puppies in the lead roles. There are various paths Barsotti takes within that basic map--dogs with human concerns, dogs treating doggie concerns like humans, humans treating doggish dogs like humans, puns, and so on; it's amusing to see Barsotti recombine the constituent parts of, say, a boardroom gag or a courtroom scene depending on what species is placed in what position and in what ratio. While some of the very New Yorker-ish mixed-species gags are funny (the one where the human therapist says to his canine patient "And only you can hear this whistle?" totally cracked me up), I'd say that overall the best jokes are world-weary dog-on-dog bits ("Oh, God, am I housebroken," says one recumbent puppy to his therapist) or mixed-breed efforts that play up the pathon, emotion, and sheer love of dog ownership. I lost it at the deadpan hyperbole and specificity of a human auctioneer gesturing to the tiny dog next to his podium and saying "The bidding will start at eleven million dollars." Meanwhile, one gag that I simply refuse to spoil involving the reunion of a man and his dog in heaven had me crying at my desk in the middle of the afternoon, and I defy anyone who's lost a pet not to do the same. The great thing about it, though, is that it isn't at all maudlin; the body language of the characters involved makes them look completely unaware that they're in a five-hankie cartoon.
Of course these aren't all winners; some cartoons just don't quite rise to the level of funny, and strange choices in terms of which cartoons to place on opposite pages of a spread lead occasionally lead to an immediate redundancy of ideas or execution. But Barsotti's effortless cartooning, somewhere between Charles Schulz (a fan) and Gary Larson, is always a pleasure. I particularly like how he plays with the size of both props like desks and judges' benches and the characters themselves depending on their relationship to one another (a gag about an old dog telling his frightened young employee that his tricks have served him well, thank you very much, works much better since the boss dog is about twice the underling's size). It's a funny book, sometimes a moving book, and good gravy it's a great gift for a dog lover.