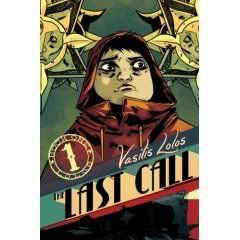 The Last Call Vol. 1
Oni Press, August 2007
Vasilis Lolos, writer/artist
144 pages
$11.95
Buy it from Oni
Buy it from Amazon.com
My favorite thing about The Last Call's debut volume is that it's not at all what I thought it would be. I expected the kind of genre mash-up hipster-action/adventure/fantasy story we've seen in books like Scott Pilgrim, Multiple Warheads, East Coast Rising, and even Powr Mastrs to a certain extent. That's where it seems like we're going at first, as young metalheads Sam and Alec head out for a road trip blasting loud, evil music with hilariously Spinal Tap-esque lyrics that fill their car, and the panels, thanks to Lolos's clever writing and lettering. Next thing you and they know, they get zapped into another dimension where they're apparently on board an enormous train filled with monstrous beings who dress and act like characters from Murder on the Orient Express (an obvious influence, along with Paul Pope's Heavy Liquid, two works not often paired). Then you've got to muddle through some claustrophobic layouts, staccato pacing, an unclear sense of place, and a somewhat repetitive choice of facial expressions for poor stranded Sam, who soon becomes our main character. (You definitely miss the levity and variety brought to the table by Lolos's vivaciously inventive color palette in his Pirates of Coney Island series with Rick Spears.) But just when you think you've got the book pegged, there's a moment when Sam's sitting down for lunch in the train's palatial restaurant with an enormous bulldog-jowled, double-mandibled dowager when suddenly you realize that Lolos is tapping another vein of fantasy entirely: the episodic discovery-of-another-world story. Sure enough, charming, slightly menacing characters collide with Sam to his alternating delight and chagrin, like an Alice in Wonderland or an Abarat as drawn by a guy with a lot of tattoos. The pacing gets increasingly clever, the character design and body choreography increasingly expressive, the plot increasingly hooky, and the book increasingly enjoyable. Like his frequent collaborator and real-life S.O. Becky Cloonan, Lolos is an exciting artist who should be a blast to watch as he shakes free of his most direct influences; this book's a good start in that regard.