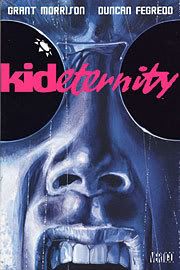 Kid Eternity
DC/Vertigo, February 2006
Grant Morrison, writer
Duncan Fegredo, artist
144 pages
$14.99
Buy it from Amazon.com
So this must be one of those "minor works" I always hear so much about. Collecting the three-issue 1991 Vertigo "reimagining" of some old DC character, Kid Eternity reads like many a current comic really intended as a movie pitch rather than a reading experience: A hapless everyman is inducted by a glib, ubercompetent, superpowered cool dude into the secret truth behind the world as we know it. The pleasures to be had here are in the idiosyncratic details Morrison weaves into this shopworn plot: casting said everyman as an observational stand-up comic (his name, Jerry Sullivan, evokes a Seinfeld with an Irish-Catholic's hang-ups instead of a Long Island Jew's); making said secret truth a weird (if familiar) splatterpunk take on Dante's Inferno; harnessing artist Duncan Fegredo, who currently mimics Mike Mignola in the pages of Hellboy, to the yoke of the world's lengthiest Dave McKean impression. But the curveballs failed to keep me as too many of the surrounding pitches were predictable and almost half-hearted. Serial killer? Check! Deranged Christian missionary? Check! Crazy lettering? Check! Tarot cards? Big check! Fegredo's visuals feel similarly lackluster: For every memorably wild vista (his infernal architecture is particularly ambitious) there's a murky, difficult-to-follow action sequence (I'm still not quite sure what happened in that initial bloodbath), hard-to-distinguish supporting character (I didn't notice that there were two separate murderous antagonists for Jerry and the Kid until they started attacking one another), or just generally uninspired choice (a would-be mindblower tour of hell is metonymized by a few static stand-alone panels and one image seemingly picked at random to anchor the spread in the background). Morrison's at his best when his comics either really read like comics (Arkham Asylum, All Star Superman) or look like comics (We3, I dunno, Seven Soldiers), and this comes across as a creature of its era that thinks it's too cool for school to do either, which it isn't.