* Comics Journal critics Craig Fischer and Charles Hatfield discuss my favorite superhero title on the stands at the moment, The Immortal Iron Fist.
* Hatfield also analyzes a killer page from Chester Brown's autobio masterpiece I Never Liked You.
* Bloody Disgusting reports that Paul Thomas Anderson's next project might be a horror film, which is exciting to me since (as I've pointed out) There Will Be Blood is a pretty horror-influenced little movie itself and (as I've also pointed out) I think he just might have the scariest movie ever in him someplace.
* BC of Horror Movie a Day reviews Hellraiser, which he hadn't really seen before, believe it or not.
* The Daily Cross Hatch talks to Tom Neely, author of The Blot, along with B.P.R.D one of the best horror comics of 2007. (Via Chris Mautner.)
* Paul Pope posts a page from his awesome "cover version" of Jack Kirby's O.M.A.C..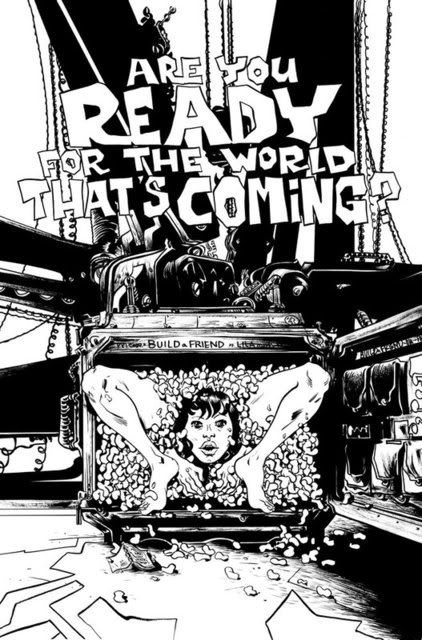 * Gary Panter posts his cover for Marvel's Omega the Unknown.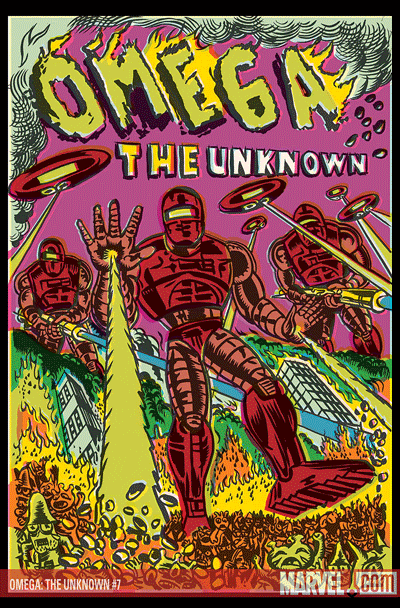 * Quote of the week:
...Marvel had 75 out of the Top 100 comics of the year, according to Diamond's sales figures. Newsarama compares that to last year's Top 100, which consisted entirely of 53 Marvel titles and 47 D.C. titles. And this is despite the fact that in the past few years, Spider-man has both eaten a vampire's face and made a deal with the devil to get rid of his supermodel wife.
--
Rob Bricken
, Topless Robot
* Skibber Bee Bye author and Lavender Diamond member Ron Rege Jr. announces Against Pain, a big new book project from Drawn & Quarterly due later this year.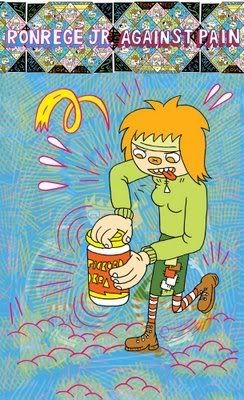 * If the bloodthirsty gorehounds at Bloody Disgusting are excited for Rambo based on these four clips, then I am too.
* In discussing critical reaction to Philip Roth's Exit Ghost as a way to differentiate great critics from good ones from lousy ones, Jeet Heer writes:
Yet he's often appreciated for the wrong reasons. It's telling that Roth's best books (My Life as a Man, the first Zuckerman trilogy, and most of all Sabbath's Theater) were widely panned by reviewers who dismissed their ferocious inwardness as a form of narcissism. Conversely, some of Roth's weaker books (American Pastoral, I Married a Communist) won rave write-ups because they dealt with "issues" and "historically significant" events (as if fiction were simply a form of reportage).
In this you can hear echoes of mainstream critics' mania for finding sociopolitical allegory in horror films and judging the movies' success based on their own success in doing so. You also see similar forces at work whenever dopey Ted Rall insists that Chris Ware is bullshit compared to editorial cartoons, or whenever a graphic memoir that touches on an important current-events topic takes off in the mainstream press (a more well-intentioned phenomenon than Rall's activist philistinism, but still).
* Jason Adams pays homage to Joan Cusack's marvelous speech ("Ma-li-bu Bar-bie!") at the end of the "let's all rise up and kill the popular kids" comedy Addams Family Values.
* Newsweek reports that the MPAA now admits that an earlier, well-publicized report that college kids are responsible for 45% of the studios' copyright-infringement losses may have been exaggerated by 30% or even more. Whoops! Better still is the explanation: human error! Well, that's one way of describing systemic greed and mendacity. (Via Bryan Alexander.)
* Finally, Jim Woodring brings us Jesus and the Bear. (Via Heidi MacDonald.)